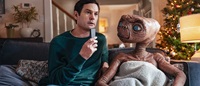 'Tis the season to reconnect
Get fast Internet up to 175 Mbps, and 140+ channels. Watch on our Xfinity Stream app. Plus search across live TV, Netflix, and more with our Voice Remote.
79.99 for 12 months with 1 year agreement
99 /mo for 12 months with 1 year agreement
New residential customers only. Equipment taxes and other charges extra, and subj. to change. See Pricing & Other Info. E.T. – The Extra Terrestrial © 2019 Universal City Studios, Inc. All Rights Reserved.

'Tis the Season to Reconnect
Enjoy a reunion 3 million light years in the making. And explore a whole universe of entertainment right in your home this holiday.
Watch the Reunion